About St Ann
St. Ann PTO is excited to offer an after school enrichment program for its students! We have three exciting sessions planned - Fall, Winter and Spring - with lots of great classes to choose from in each one. On this site you'll find all the information about program procedures, class descriptions and details you need to participate. Whether you are looking for sports, arts and crafts, technology, science or hobbies, there's something here for everyone. Please click on "View all Courses" button below during Open Registration to register. SO go exploring and see what you want to learn!
---
Transition from school to enrichment programs:
Students will be dismissed to a designated meeting location where the enrichment instructor must be ready to greet them. Once the enrichment instructor meets the students at the designated location, the instructor takes attendance, ensures everyone is present, and proceeds to classroom.
---
REGISTRATION WILL BE OPEN FROM 10/2/19 7:00 AM UNTIL 10/11/19 11:59 PM
---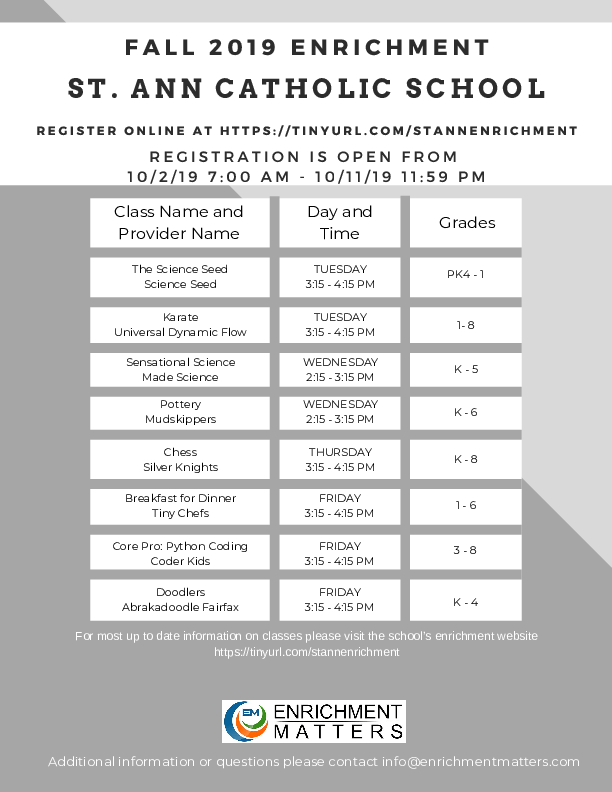 ---
The Science Seed - The Science Seed - $104
Children are natural scientists; curious and full of the desire to observe and explore. Preschool and early elementary is the perfect time to start a lifelong love of science by introducing students to basic science concepts. The Science Seed™ teaches geology/earth science, chemistry, biology/nature, physics, and nutrition in fun, interactive and age-appropriate ways. Our goal is for students to understand the breadth of science and therefore each session contains lessons from the different disciplines. In addition, we introduce students to the fact that scientists are also note-takers, data recorders, writers and authors by creating a journal of the session…a memento they will bring home on the last day of class. Students will bring home from each class a note to the parents informing you of what was explored in class and how to continue the lesson at home. Topics will be different for each session offered at this school for the year. For information on the specific topics taught this session, please email thescienceseed@gmail.com.
Karate - Universal Dynamic Flow - $119
Power. Balance. Confidence. Focus. Fun. Kids learn how to generate power and force while maintaining their innate love and kindness. Be strong and kind at the same time: LOVINGLY POWERFUL. Kids strengthen their sense of self as they balance the masculine and feminine forces of 'making things happen', and 'allowing things to unfold'... willpower and letting go. Taught by 9x Canadian Karate Champion, Author, Certified Health Coach, & Mom - Lisa M. Ling. (www.udflow.com) Includes a copy of the children's empowerment book: Zoey Lee.
Sensational Science - Mad Science - $123
In Sensational Science, children will harness heat energy, learn the science behind cotton candy, and explore the properties of both light and color. Your Mad Scientist will experiment with magnets and examine curious optical illusions. Each child will mix chemicals and analyze chemical properties! Children will get to know their taste buds better and witness a hair-raising demonstration of static electricity! Each hands-on class includes an awesome take-home project and home lab with fun facts and exciting experiments to do at home.
Pottery Class - Mudskippers Pottery - $151
Let Mudskippers Pottery bring the mud to your school! We are a family run professional studio that specializes in PTA sponsored after school ceramics education. Our instructors will expand students' knowledge and creativity. Each project is grounded in an historical artwork, submersing students in history and culture. Students will hone their fine motor skills through hand building and glazing pottery while expressing their unique personal vision. The 3D medium will teach them to use problem solving skills to address form and structure. Mudskippers Pottery will bring their convenient mobile studio to your school with all the advantages of a professional studio.
Chess Club - Silver Knights Enrichment - $110
Learn chess from a Silver Knights chess coach! State and national champions have come from our programs, but most of our students are just looking to have fun! Class time is split between lesson and play. Lessons range from learning the rules to advanced tournament strategies, depending on the student's skill level. Play time is structured to pair each student against an opponent of similar skill. All grades and skill levels are welcome. Silver Knights will supply all the equipment during chess club. Students will have the opportunity to play in tournaments.
Breakfast for Dinner - Tiny Chefs - $167
Turn your favorite breakfast dishes into the main event as dinner options. How about a cheddar-chive frittata with fresh salsa? Or Brunch pasta with bacon and eggs? Maybe you'd prefer a more traditional French toast, dressed up with bananas and blueberries? Any way you slice it your little chef will love tucking into these comforting breakfast classics.
Doodlers - Abrakadoodle - $105
This popular art program helps kids stretch their creative muscles and exercise their right brains in action-oriented classes filled with color, texture, shape and fun! Our art lessons are carefully crafted to promote uniqueness and imaginative thinking as kids create their own unique masterpieces through painting, drawing, cutting, molding and exploring creative materials. Each lesson introduces a new technique and artist's style.
Coder Kids Core Pro: Python Coding - CANCELLED
Coder Kids set off on a coding adventure by learning to code in this popular programming language used by Youtube, Netflix, and Google. Coder Kids learn computer science while developing their own programs and games in Python.

After completing this course, Coder Kids will be able to use the PyCharm Python editor to create their own Python files, run code, experiment with the Python Console, and resolve bugs. They will also be able to use for-loops, conditionals, if statements, and while loops to control the flow of their programs and create their own computer graphics using the Turtle Py library. Finally, they will use conditionals and other programming logic to design an A.I. capable of playing Tic-Tac-Toe.